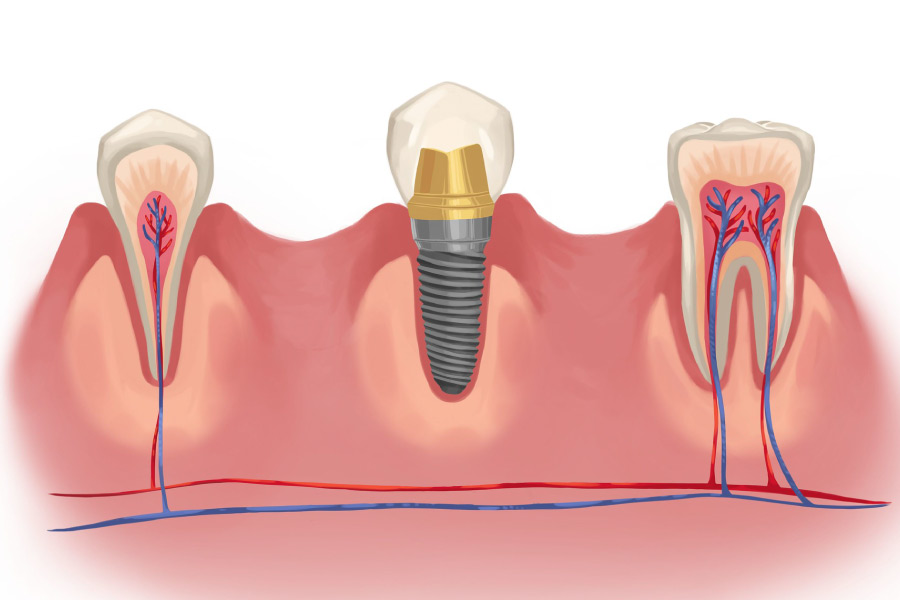 How To Know if I Would Be a Good Candidate for Dental Implants
April 13, 2023 8:34 pm
---
Dental implants are a revolutionary restorative treatment that can completely transform your smile after tooth loss. This treatment can be a life changing option for many patients. Here's what you need to know about dental implants!
What Are Dental Implants?
Dental implants are small, titanium posts that are surgically implanted in the jawbone. They are designed to replace the natural tooth roots and provide a stable foundation for tooth restorations. Once the implants are in place and healed, patients will get a custom tooth restoration (crown, bridge, or denture) to attach to the implants.
Top Benefits of Dental Implants
Dental implants provide a wide array of benefits for patients who receive them. Some of the many benefits include:
EASY MAINTENANCE – With dental implants, you can treat them just like natural teeth. Brush and floss regularly to maintain a healthy smile.
MAINTAIN FACIAL APPEARANCE – Tooth loss can cause cheeks to appear sunken in. With implants, your face will have a more youthful appearance.
PERMANENT TOOTH REPLACEMENT – Implants are the only permanent tooth replacement option available. They are made from a biocompatible material that fuses with the jawbone.
PREVENT BONE LOSS – When tooth roots aren't stimulating the jawbone, the bone starts to degrade. Implants keep the bone stimulated and strong.
TALK & EAT WITH EASE – Dental implants are completely stable, so your restorations won't slip or fall out when you talk or eat.
Dental Implant Candidacy
The best way to find out if you're a good candidate for dental implants is to schedule a consultation with Hermitage Family and Cosmetic Dentistry.
OVERALL ORAL HEALTH – Our team will check your oral health to ensure you don't have any underlying dental issues, such as periodontal disease.
JAWBONE DENSITY – Before placing implants, we'll check to see if the jawbone has enough density to support the implant. If it doesn't, we'll perform a bone graft before implant placement.
AGE – Dental implants aren't an ideal option for children. Typically, patients will need to stop growing before they can receive dental implants.
Schedule Your Dental Implant Consultation
Dental implants are a good option for most people but the only way to know for sure if they are right for you is to schedule a consultation. At Hermitage Family & Cosmetic Dentistry in Hermitage, TN, we provide custom restorations and safe implant placements to help you regain a complete, fully functioning smile. Please contact us to schedule your implant consultation!
Contact Us
Image by Authority Dental under CC 2.0
Categorised in: Dental Implants, Restorative Dental Care