3 Ways to Improve Your Dental Health
August 28, 2023 9:00 am
---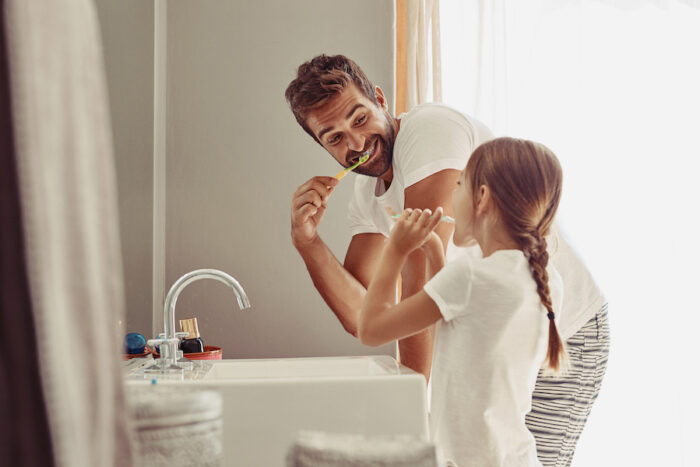 You probably hear a lot about the importance of good physical health, like a healthy diet and regular exercise. Your dental health is just as important! If you neglect healthy dental habits, gum disease, cavities, and tooth loss can follow. Moreover, your heart health and oral health are linked. What are three ways to improve your dental health?
Brush and Floss Daily

To keep your teeth clean and cavity-free, you should brush at least twice a day for two minutes each time. An electric toothbrush, such as an Oral-B or Sonicare can make more brushing sessions more effective. Don't forget to floss! Flossing removes plaque and food debris from between your teeth and keeps your gums healthy. Floss picks are convenient for on-the-go, but string floss will be the most effective.

Add More Vegetables to Your Diet

Crunchy vegetables like celery and carrots are great for dental health because they polish your tooth surfaces, stimulate your saliva production, and fuel your body with vitamins and minerals! Dark leafy greens also have lots of tooth-friendly nutrients like calcium and folic acid, so if you want your diet to support your oral health, add more veggies!

Visit the Dentist Every Six Months for Cleanings and Exams

It's easy to forget about visiting the dentist every six months, but with only two visits a year, you can significantly improve your dental health! At a cleaning, removing built-up tartar (hardened plaque) from your teeth decreases your risk of gum disease and cavities. We also catch oral health issues early on, so you don't develop more serious problems down the road.
Visit Hermitage Family & Cosmetic Dentistry for Great Dental Care in Hermitage, TN
Maintaining great dental health is part of a healthy lifestyle. Thankfully, you can improve your health with simple steps like brushing and flossing every day, eating more vegetables, and visiting our office for cleanings! If you have questions about our services or want to book an appointment, please reach out to us today.
Contact Us
Categorised in: Oral Health